NIMC Registration Procedure & Requirements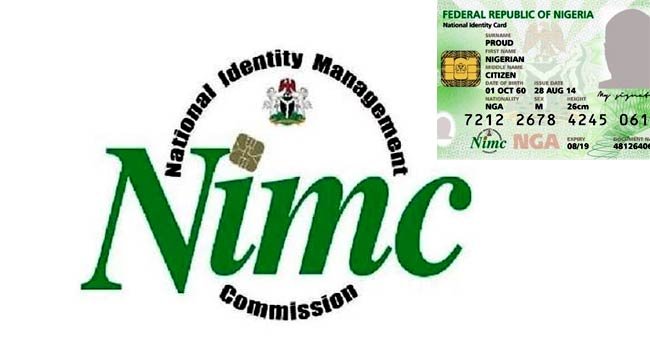 About NIMC
The National Identity Management Commission is the Federal Government's organ charged with the registration of legal citizens and residents in Nigeria.
Since the establishment of this commission under the Ministry of Interior (now moved to ministry of communications and digital economy), the commission has enrolled millions of citizens and issued them with the national identity number which is similar to the social security number in the United States of America.
NIMC Registration – Step by Step Process
The registration process for the national identity number used to be very difficult few years ago. However, the commission took the advantage of technology to digitize the entire process of national identity registration. The steps involved are:
Pre-enrolment
You can pre-enroll for the National Identity number online by filling some basic information here. Then you print the barcode slip and walk in to any NIMC enrolment center close to you to continue with the process.
Enrolment
This is the actual registration for the national identity number. You can visit any center and fill the enrollment form or use the pre-enrollment slip you printed to continue with the registration.
Your ten fingers will be captured and a transaction slip will be issued at the end of the enrolment stage.
The transaction slip will serve as a proof of transaction.
Paper slip printing / NIN issuance
About two weeks after enrollment, your NIN will be ready for collection or printing on paper. You can use the number to carry out any transaction or for digital identification
Digital Id card printing
After the termination in issuance of plastic ID cards by the NIMC, E-cards have now replaced plastic id cards. With this development, you can get your E-card just 1 month after issuance of the NIN.
NIMC Registration Form
To register for the national identity number, you can walk in to any registration center spread across the 36 states of Nigeria. To make it even easier, you can fill the pre-enrolment from online free of charge, print the slip and take it to the nearest NIMC registration center.
NIMC Registration Centers in Lagos
The NIMC has several enrolment centers in Lagos. You can enroll for the national identity number from any of the following centers / partners.
ACCESS BANK ACCESS TOWERS PRINCE ALABA ONIRU STR ERC
ACCESS BANK ADEOLA ODEKU STREET VI LAGOS
ACCESS BANK ADETOKUNBO ADEMOLA STR VI
ACCESS BANK IKOTUN JUNCTION IKOTUN LAGOS
ACCESS BANK ITIRE LAWANSON RD SURULERE LAGOS
ACCESS BANK LAGOS ABEOKUTA EXP WAY AGEGE
ACCESS BANK LEKKI PENINSULA ADMIRALTY WAY
ACCESS BANK OBAFEMI AWOLOWO RD ALAUSA IKEJA
ACCESS BANK ODOGUNYAN IKORODU LAGOS
ACCESS BANK OPEBI RD IKEJA
ADEBOLA SOBANJO LTD ESAN CLOSE COLLEGE ESTATE IGANDO
ADEBOLA SOBANJO LTD FOURSQURE CHURCH MAGODO LAGOS
ADEBOLA SOBANJO LTD FRIENDS COLONY ESTATE
ADEBOLA SOBANJO LTD IKOTUN IGANDO RD ALIMOSHO
ADEBOLA SOBANJO LTD LEKKI PENNINSULA ADMIRALTY WAY
ADEBOLA SOBANJO LTD MERCEDEES HUB AYANGBURE RD IKORODU
ADEBOLA SOBANJO LTD OGUNFAYO COMMUNITY HALL LAKUWE
AFRITECH MULTI CONCEPTS LTD ALAGBON IKOYI LAGOS MOBILE
AIRTEL TOWN PLANNING WAY ILUPEJU LAGOS
AVAS TECH ADENIYI STR IYANA ITIRE
DEFCON ALLEN AVENUE FIRST BANK AREA IKEJA
SERVICE MANAGEMENT BELLO STREET OSHODI LAGOS
SERVICE MANAGEMENT LASISI BAOKU STR IKORODU
SERVICE MANAGEMENT OTOTAYO DAWODU STR IKORODU
SERVICE MANAGEMENT OWOLABI BALOGUN STR SHOMOLU
NIMC Registration Requirements
It is compulsory for all legal citizens and residents of the Federal Republic of Nigeria to enroll for the National Identity Number (NIN). The national identity number has become so important that you can not access government services like loans and jobs with possessing the NIN.
Therefore, it is required that all citizens and legal residents of Nigeria enroll for NIN. Whether, you are a citizen or a resident, the process of registration is all the same.
You can visit the nearest NIMC Enrolment Centre with your Bank Verification Number (BVN) and any of the following Original documents for validation:
Your Old National ID Card
Driver's License or Work IDcard
Voters card
International Passport
Indigene / Residence Certificate
Letter of Introduction from village head
Government Issued Birth Certificate
NHIS Card
School ID Card (Recognized)
Authentic immigration documents for Non-Citizens
Process of Adult enrolment for NIN
Visit the enrolment Centre with the required document.
Your details will be verified to check if you have previously enrolled on the NIMC portal.
If applicant has not enrolled before, they will be issued with an enrollment form. OR the printed pre-enrolment slip will be collected from the applicant.
Applicant's form will be cross checked by the NIMC official for corrections of errors.
The applicant's information will then be inputted into the NIMC portal by the officer or the Barcode from the pre-enrolment slip will be scanned to populate all the required field.
The officer will then ask the applicant to check his information on the monitor for corrections of errors.
If the applicant is satisfied that his information is correct, a biometric capture of ten fingers will be taken.
After completing all the process, a slip will be printed which will serve as an evidence of transaction. However, possession of the slip does not grant you the right to National Identity number. The applicant will be required to come back in five working days for his National Identity Number.
The national identity number is issued to the applicant.
The e-card will be available for printing at least 1 year after issuance of the national identity number (NIN).
NIMC enrolment for Minors
There is a place for registration of minors in the NIMC scheme. For the National Identity Number, minors are those between ages 0 to 15.
To register a minor for the National Identity Number, simple walk in to the closest enrolment centers with the following documents:
Compulsory requirements for minors
The national identity number of the parent or guardian must be provided.
You must prove that you are guardian to the minor by providing required documents.
Government issued birth certificate of the minor or declaration of age.
The minor must be accompanied by the guardian or parent to the enrolment center.
Supporting Documents
Government issued Birth certificate
Statutory declaration of age
School Id card
NHIS ID
International passport
Letter of introduction from village head
Nimc Registration Deadline or Closing Date
On 26th July, 2021 the Federal Ministry of Communications announced that the closing date for the NIN has been extended to October 31, 2021
Nimc Registration USSD Code
Sometimes you may forget your NIN when it is needed for an urgent transaction. NIMC provides a digital way of retrieving your NIN. To retrieve your NIN using the USSD service, follow the following steps;
Dial *346# on your phone
Select NIN retrieval by typing 1 from the options on screen.
Follow the required steps and provide the required information.
It is important to note that usage of the USSD service attracts a service fee of

N

20 per transaction
Related questions to NIMC and NIN registration
How can I check my Nimc card status?
To check the status of your digital card visit the NIMC status check portal here
Can I register for Nimc online?
Yes, you can start the process by pre-enrolling online, visit the NIMC website here.
How do I know if my national identity card is ready for collection 2020?
To check the status of your digital card visit the NIMC status check portal here
How do I verify my NIN online?
You can verify your NIN online by using the verification database provided by the NIMC backend system here
Which bank does NIMC?
The following banks have partnered with the NIMC to enroll people for NIN.
Access Bank
Zenith bank
First Bank
How do I check my NIN?
To check your NIN, dial *346# and click '1' which is retrieval and follow the remaining instructions.
How can I reprint my NIN slip?
You can reprint your slip on the NIMC portal by clicking this link and following the instructions.
How do I register for MTN NIN?
To register for MTN NIN by visiting this website or by dialing *785* your 11 digits nin#
How do I know if my SIM is registered with NIN?
Dial *346# on your phone
Select NIN retrieval by typing 1 from the options on screen and fill in the required details.
How can I check Airtel Nin status?
To link your NIN to your Airtel sim, dial dial *346# to retrieve your NIN, then visit the Airtel NIN portal to submit your 11 digits NIN.
How do I link my Nin to MTN online?
You can link your NIN to your MTN sim by dialing *745*Your NIN# or by visiting the MTN NIN portal
Author Profile
Fishon Amos writes on Education, Rankings, Wealth, Technology, Politics and others with Explain.com.ng. He has published several articles online and hopes to keep educating people through his writings. When he is not writing, he plays chess and listen to crime Podcasts on Spotify.