Nigerian Institute of Management Review [Must Read]
Nigerian Institute of Management Background Information
The Nigerian Institute of Management was established in 1981 after a meeting of top managers in governance, commerce, and industry was held to discuss establishing a management institute in Nigeria.
The institute was initially known as the National Management Group. Subsequently, the group gained national recognition and was also recognized internationally by reputable International management institutes like the British Management Institute, American Management Group, and several others.
On January 1965, the Nigerian Management group officially registered as a corporate entity in Nigeria under the Nigerian Companies and Allied Matters Act.
The Nigerian Management Group thereafter changed its name to the Nigerian Institute of Management.
On 19 January 2003, the Nigerian Management Act was passed by the National Assembly, thereby making the institute the apex regulator of the management profession in Nigeria.
Since its formation, the institute has constantly provided avenues and forums for discussions among Nigeria's elites. In 2006, President Olusegun Obasanjo while delivering his address to the institute urged the members of the institute to assist the country in the fight against corruption. The Nigerian Institute of Management represents a gathering of intellectuals, business leaders, and captains of industries.
Its influence has affected government policies and decisions in several instances, for example when the BokoHaram attacks were becoming prominent, the institute advised the then-president Goodluck Jonathan to organize a National Conference to provide the forum for discussion of critical national issues, this later gave birth to the National Conference of 2014.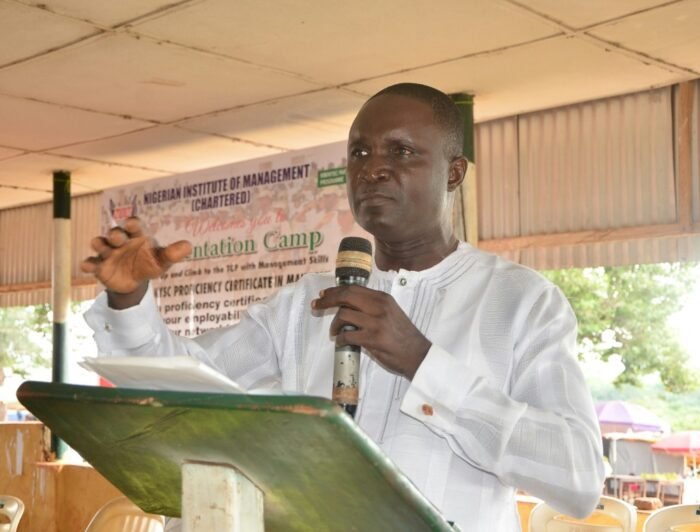 Nigerian Institute of Management Courses
The Nigerian Institute of Management as the regulatory body of the management profession in Nigeria offers a wide range of courses which include:
1. Postgraduate Diploma In Management
This program is run by the Nigerian Institute of Management in collaboration with the University of Ibadan. This course is recommended for those who have no prior education in management-related fields especially for Engineers, Accountants, and other professionals.
2. Undergraduates Scheme
This program is meant for University students in their third year of study. In this scheme, the institute will allow the students to take various courses of the institute and become graduate members upon completion of their studies. These courses come in stages which include:
Stage One Courses
Introduction to Communication Skills for Managers (MPE 003)
Introduction to Corporate law (MPE 008) Entrepreneurship (MPE 006)
Principles of Accounting (MPE 005)
Principles of Economics (MPE 007)
Stage two Courses
Business Ethics and Nigerian Institute of Management Act
Financial Management and Risk Assessment
Leadership Development Studies
Marketing Management
Management Principles and Techniques
Specialized Programmes
The Nigerian Institute of management also offers specialized programs for its members who are looking to upgrade their knowledge of management trends.
IT Skills for Administrative Officers: This is for members who don't have computer skills. It is a basic course that introduces members to the basics of computers and computing
Office Administration course: This course is for both private and public employees looking to improve their knowledge of Office administration.
Personal Effectiveness Skills for Secretaries, PAs, and Office Assistants: This is a general course recommended for all members to help them discover how they can be more effective in their duties.
Other programs of the Institute
These are programs that are compulsory for all registered members of the institute. It is often a basis for the renewal of membership.
Program Mandatory Continuing Professional Education Programme (MCPP)
Continuing Learning and Development (Clad)
Nigerian Institute of Management Induction
The Nigerian Institute of management is done annually to bring in new members who have passed through a rigorous process of selection.
To be inducted as a member into the Institute you must satisfy the following criteria:
Successfully sat for and passed the examination of the Institute
Fill the Induction form available on the Institute's website
Payment of a non-refundable fee to the institute through the portal
Complete all registrations and payment 3 days before the induction ceremony
All successful inductees will be notified via email
Nigerian Institute of Management. Membership
To enjoy all the benefits that the Nigerian Institute of Management offers, you must first become a member. Membership in the institute is divided into two categories: Corporate and Individual.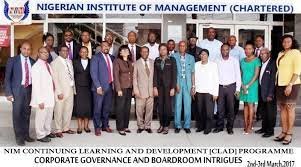 Corporate Membership
Corporate establishments can access management development support for their organizations through NIM corporate membership. A Corporate Member of the institute will enjoy the following benefits;
Training, support, and Capacity building of your employees at an affordable rate.
Consultancy services for your organization and research on future issues your organization may face with their various solutions.
Opportunities for your staff to attend seminars, retreats, and conferences at a subsidized rate to improve their knowledge.
Free advertisement of your products on the website of the Institute for six months, exposing you to thousands of potential clients monthly.
Space for your organization to advertise its products during annual retreats, and also in journals.
Access to the digital library of the institute and a voting right in the annual AGM
Individual Membership
Professional Recognition: As a member of the is institute you have a very big edge professionally. The institute also allows you to use the prestigious post-nominal letter (AMNIM, MNIM, FNIM) to improve your professional recognition.
As a member, you will have the opportunity to participate at the state branch of the institute. You will also:
Attend several human capital development programs organized by the Institute at subsidized rates
Create connections with other reputable managers
Contribute to national issues and policies
Bea a member of a local chapter of the Institute
Access to the Resource Centre: You will be given access to all the educational and development resources available at the institute.
Nigerian Institute of Management Certificate
After the completion of each course at the institute, you will be issued a certificate that is recognized nationally.
You can get your certificate from the institute's tuition centers nationwide at no cost, or have it delivered to you through courier service at the cost of N4150.
Nigerian Institute of Management Registration Portal
The official portal of the Nigeria Institute of Management can be found here.
Related Questions To The Nigerian Institute Of Management
How Can I Apply For Nigerian Institute Of Management?
To apply for membership, visit the official portal of the institute here.
Is Nim A Professional Course?
Yes. NIM various range of professional courses for both individuals and corporate entities.
What Is Nim-Nysc?
This program is a partnership between the Nigerian Institute of Management and the NYSC to train Corp members on basic management skills.
How Do I Register For Nim Induction?
To be eligible for Induction you must have sat for and passed the institute's examination. All information about the induction process is available at the institute's website.
What Are The Requirements For Nim Registration?
To register as a member you must have prior educational qualifications in a relevant field as may be decided by the institute from time to time.
Author Profile
Fishon Amos writes on Education, Rankings, Wealth, Technology, Politics and others with Explain.com.ng. He has published several articles online and hopes to keep educating people through his writings. When he is not writing, he plays chess and listen to crime Podcasts on Spotify.