MTN cheap data plans and bundles
MTN Nigeria is the largest telecommunication network in Nigeria, with over 100 million subscribers. Other networks in the country include Globacom and Airtel Nigeria. MTN came into the country in the early part of the 21st century.
At that time, mobile communication was relatively unknown in Nigeria. A few years later, internet services were introduced by the telecommunication giant after the introduction of mobile phones with Internet capacity. As a result of the growth of mobile phones, more subscribers now use internet data plans from the network to enable them to enjoy uninterrupted internet access.
Nowadays, more people are using mobile internet services from their homes and offices. Hence, the reason for the increase in data plans from both MTN and other telecommunication networks in Nigeria.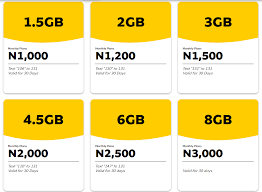 Prices and codes of MTN data plans
MTN has updated its internet data plans. This has resulted in more data allowance and introduced some new data plans the give subscribers more value for their money. These new data plans enable high data users to browse the internet through that phones with ease.
MTN data bundles are available for users on a daily, weekly, monthly, and quarterly basis. The cheapest of them all, which offers the biggest value for money, is N1000 for 1.5 GB and N1,200 for 2GB. We are going to provide you with a list of MTN data plans and their cost.
The price of most of the data bundles has risen recently. This post will look at the current prices of data plans from the "everywhere you go" network for their subscribers to know.
N1000 for 1.5GB, you can enjoy this data plan after texting "106" to 131 in your MTN mobile line. It is valid for a month.
N1,200 for 2GB. You can use this data plan after you text "130" to 131, and it is valid for a month as well.
3GB for N1500. This data plan has a validity period of 30 days. To enjoy it, you need to text "131" to 131.
5GB for N2000 is available to MTN subscribers for 30 days. Text "110" to 131 to enjoy this plan.
8GB for N3000. This data plan is available to all MTN subscribers. The validity period for this plan is 30 days. Dial *131*1# on your MTN line and follow the instructions to activate this plan.
150GB for N70000. This data lasts for 90 days. You enjoy it, and you have to text "134" to 131.
75MB for N100. This data last for 24 hours. All you need to do is send an SMS with the number 104 to 131.
2GMB for N50 lasts for 24 hours. Text 114 to 131 to enjoy this plan.
200MB for N200 last for two days. You only need to send an SMS with 113 to 131.
1GB data for N500, which lasts for seven days, is also available to MTN subscribers. Text 142 to 131 to enjoy this data plan.
750MB for N500 lasts for seven days. Send an SMS with 103 to 131.
40GB for N120,000. This data plan is different from all others in this list; it lasts for 12 months. Text "156" to 131 to enjoy this plan.
100GB for N250,000. This data plan is an annual bundle as well. Send an SMS with "136" to 131 to use this data bundle. This plan suits those who are high users of data.
Remember to send an SMS with "2" to 131 to check how much data bundle you have after activating any of these plans listed above.
MTN MiFi Plan – prices and how to check data plan
The MTN MiFi is another great choice for households and traveling subscribers. It provides a fast connection with smartphones, Laptops, Smart TVs, and game consoles. The MTN MiFi can connect up to ten Wi-Fi-enabled simultaneously.
Also, it has an eight hours battery life. These qualities make it impressive and tempting after charging the device. To enjoy the MTN MiFi, you have to buy it from MTN stores and partner stores.
You can purchase a data bundle for the MiFi without removing the SIM card from the MiFi device by following the steps below,
Dial *131# from a choice SIM card. Afterward, select option 7 for Data Gift.
Then, select a data plan from the list provided. Then, select 1 to proceed with a day bundle purchase.
Then, type the MiFi SIM Msisdn. Enter customer care PIN of alternative number. Then, you will receive a successful data gifting message.
Author Profile
John Aina Ajibola has a Masters degree as an engineer and has over 3 years of teaching and research experience. He is happiest when on a bike and is also interested in electric energy and computer Science.