Best Beaches in Lagos. The Mega Guide
Lekki Leisure lake
Located opposite the three-story Vantage Beach Hub, lekki leisure is the best destination authentic outdoor fun in Lagos. The resort is a safe and tranquil destination suitable for a family outing, a group adventure or even a fun day out with your significant other.
Lekki Leisure lake offers a variety of seaside activities such as Quad bike rides, Pedal boats, water bicycles, Boat rides, jet ski, pontoon boats etc. Lekki Leisure Lake is one of the best tourist destination and beach in Lagos offering fun for both adults and kids. Apart from its adventurous side, it also has a restaurant, bar and a sea size lounge for different local and continental dishes.
Atican beach
Atican beach resort is a luxury environment carved out to serve as sanctuary for travelers and beach lovers. Located in a coastal environment, Atican beach resort was created to provide a more secured and conservative environment for all beach lovers in Lagos and Nigeria as a whole.  The resort is designed with a range of rooms that consider client budget with satisfaction as a priority. At Atican Beach Resort little ones are also considered, hence, a private play ground is provided for the children and also an opportunity to go horse riding. Bookings can be made on the official homepage
Kamp ikare beach resort
Kamp Ikaare is an elite beach resort located along the Atlantic and Lagos Lagoon.
The resort is only accessible by boat and it is a 40 minutes boat ride from Victoria Island. The Kamp Ikaare Beach Resort is located off the coast of Lagos on the Island of Ikaare, a short boat ride from Victoria Island. It boasts breathtaking views of both the Atlantic Ocean and Lagos Lagoon, and is a fairly popular getaway from the busy city of Lagos. Though set in a picturesque landscape, the resort's 6 chalets and communal beach house were somewhat dated in their presentation with an aesthetic that seemingly clashed with its location.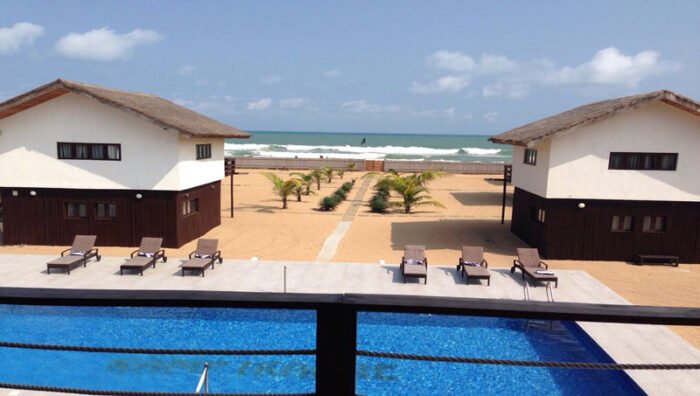 Landmark beach lagos
The Landmark Leisure Beach, located at 3 & 4 Water Corporation Road – VI is Lagos' first in-city premier private beachfront. The beach features a boardwalk along the Atlantic coastline, spanning the distance of the Landmark Village, home to Hardrock Café, Shiro Restaurant, the renowned Landmark Event Centre and the upcoming Retail Boulevard. It combines a myriad of leisure and recreational activities which caters to adults and children.
Landmark beach Lagos offers top notch beach services for modest prices. The range of prices for all beach activities can be seen in the landmark beach pricing list.
Notable Landmark Leisure Beach Activities
AstroTurf Pitch
Beach Paintball
Coastline Boardwalk
Jet Skiing
Beach Volleyball
Basketball
Cabanas & Loungers
Beach Soccer
Windsurfing & Kitesurfing
Eleko beach
Located just 45 minutes' drive from Ikoyi, Eleko Beach is a palm-fringed beach with several small privately owned beach huts. Eleko Beach offers peace of mind and tranquility, ideal for those seeking privacy and it is perfectly located for easy access from Victoria Island, a commercial center in Nigeria, as well as the popular Lekki Conservation Center.
Ilashe beach
Ilashe Beach is one of the luxurious beach resorts in Nigeria. It is located on Snake Island off the Lagos coast along the Badagry Creek. Along its coasts lies beautifully arranged coconut trees, crystal white sand ushering you from the lagoon front down to the Atlantic Ocean.
Ilashe private beach is one of those hidden treasures in Lagos specially made for the rich and wealthy. Ilashe beach is truly a paradise on earth and a hidden haven for the rich who own some of these beach houses where they silently come to have fun.
If you are looking for a beach destination in Lagos where luxury and nature meets its Ilashe. The beach houses are built to specification with state-of-the-art facilities most of which are only inhabited when the owners come for a visit or tourist rent them for a party. It is one of the many beautiful attractions in Lagos.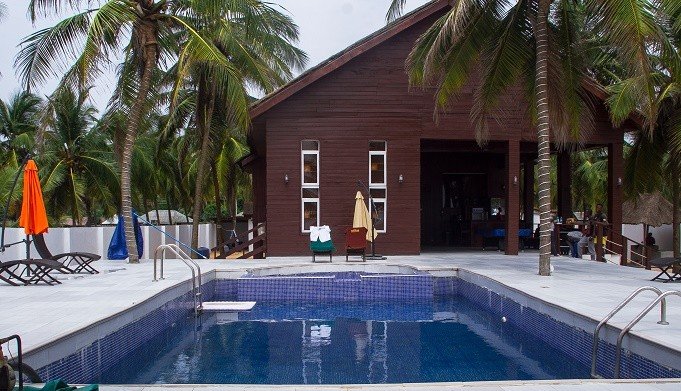 Eko tourist beach resort
Eko Tourist Beach Resort is a privately-managed beach that provides fun seekers and picnickers an alternative to the hustle and bustle of conventional beaches in Lagos State.
Located along the Lagos-Epe Expressway, the resort has well-appointed chalets, amusement parks and a serene swimming beach, exquisitely furnished rooms and suites while providing a conducive ambiance for communing with nature.
The resort operates with the aim of providing guests and organizations with an affordable recreational place where they can think through ideas, review strategies, unwind, meditate and relax.
The resort has an amusement park, clinic, private security and other sporting facilities such as snooker, boat riding, archery, beach football, table tennis, quad biking etc. Apart from the long stretch of beach off the coast of Atlantic, there is also a well-maintained swimming pool for the younger ones.
La Campagne Tropicana
La Campagne Tropicana Beach Resort is a spectacular epitome of natural splendor and man-made beauty that is perfect for fun seekers and tourists who want to escape the metropolitan area of Lagos. This African-themed resort is a 4-star resort in Ibeju-Lekki, Epe Expressway located on the Atlantic coast next to Ikegun Lake. It is on a 65-acre land and features a unique blend of natural ecosystems, which includes the Atlantic Ocean, sandy beach, freshwater lake and a mangrove forest.
The resort offers guests a number of high-quality hotel facilities, including: a restaurant with a variety of local and intercontinental dishes, bar / lounge, excellent security arrangements, 24/7 electricity, large parking area, swimming pool and well-equipped fitness center.
Ibeno beach
The Ibeno Beach is one of the beaches on the Atlantic Ocean along the shorelines of Ibeno. It is the longest sand beach in West Africa. The beach is located in Ibeno, a local government area of Akwa Ibom State southeastern, Nigeria. The title, "Ibeno beach" was coined from its location, "Ibeno". At any time of the day, the verdure around the beach, entertains the tourists and lovers with exotic sites, just as the friendly host community ascertains tourists of their safety during their stay.
Due to its serenity and security, the beach is rated high among the top soothing and clean beaches in the country. The beauty of this beach is that the sands of the beach itself have been stable over the years without receding with the tide of the water.
The beach resort is a sight to behold with white sand dunes that is unaffected by the waves of the Atlantic Ocean.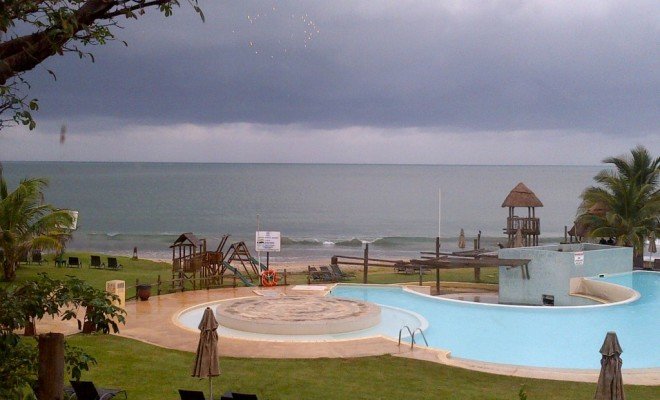 Barracuda beach Lagos
Barracuda Beach & Resort offers all the leading amenities of a full-service resort without the resort fees. Our atmosphere is casual, our staff friendly and our hospitable service ensures guests keep coming back year after year.
Barracuda beach Lagos Resort is designed as an epitome of warmth, comfort, fun and pleasurable experiences where tourists, visitors, vacationers and leisure travelers can stay overnight, dine and enjoy the breathtaking view of the clear Atlantic Ocean. It is elegantly designed and well built, and offers a spacious, cool and tranquil atmosphere with efficient guest-orientated service. Above all, Barracuda beach has a minimalist footprint with consequent low impact on the environment. Prospective visitors can also take a virtual tour here    
Available amenities at Barracuda Beach Lagos
Free Wi-Fi
Free parking
Outdoor pool
Air-conditioned
Laundry service
Business center
Room service
Free Breakfast
Kid-friendly
Beach Access
Restaurant
All-inclusive available
Airport shuttle
Fitness center
Bar
Oniru private beach
Oniru Private Beach is one of the popular island hot spots in Lagos. The beautiful oasis is heavily patronized by locals and foreigners and it offers a balanced mix of music, food and gorgeous scenery.
The beach is one of the Lagos resorts owned by the great Oniru Royal Family and it entertains tens of thousands every week with Sundays being the best days.
Due to the privacy and fun, this beach offers, upon arrival there, you will spot many expats and couples enjoying Oniru Beach. When you visit Oniru Beach, ensure you are ready to have a good time and make wonderful memories.
The entry fee at Oniru Beach is N1000
Bar beach Lagos
The Bar Beach is a beach on the Atlantic Ocean along the shorelines of Lagos, situated on Victoria Island. For a while, it was the most popular beach in Nigeria especially when Lagos was the capital of the country.
Bar Beach was once one of the most accessible and visited beaches in Lagos where revelers could horse ride, swim, play beach football and engage in picnic activities. Bar beach was closed, sand filled and gave up its ghosts for a new city on the Atlantic – "Eko Atlantic City".
La manga beach resort
La Manga Luxury Beach Villas and its facilities are designed to create that perfect set-up for ultimate relaxation and fun. The breathtaking views of the turquoise ocean and the swimming pool, couple with the uninterrupted sounds of the breeze and the gentle waves makes La Manga the ideal location to relax and unwind.
La Manga Luxury Beach Villas are located along Ilashe Beach on the beautiful Island of Ilashe in Lagos State, Nigeria. La Manga guests are provided with second-to-non services expected from an exquisite getaway spot. The food menu boasts of carefully selected international and local dishes prepared fresh by pro chef. Guests are also allowed to either bring their own food, have our in-house chef prepare their preferred dish, or bring their cook.
Available facilities at La Manga Beach resort
400 Capacity Event Centre
Ocean view Bedrooms with ensuite bathrooms
Beachfront Swimming Pool
Massage Room
Lounge & Bar
Furnished kitchen
BBQ facilities
Satellite TV, DVD, stereo system with CD players.
Mini Golf Course
Volleyball Court
Quad Bikes (Available for hire)
Jet Ski (Available for hire)
Open Space Gazebo
Beachfront Bamboo Canopies
24 hours Security
Santa cruz beach Lagos
Santa Cruz Beach is a fun private beach located off Abraham Adesanya Estate, Negombo Road, Lekki Phase 2. Located in a calm environment, Santa Cruz Beach is a fun private beach that hosts lots of celebrity parties. The beach boasts a clean environment and it is also well managed. The beach caters for everyone from the young, youthful to the old. The security here is 24/7 so you won't have to worry about the safety of your guests. It is a perfect place to relax with your family or if you are looking for a getaway. It is the perfect blend of fun and solitude at the seaside.
Hermitage garden resort
Hermitage Garden Resort has a pretty beach front has an epicurean mini-villas offers wonderful ocean view with its own balcony and has an expansive and soothing environment. It is a privy resort on the Lekki/Ajah peninsular area of Lagos. It has recreational features which include indoor and outdoor sports facilities such as beach football, boating, fishing and play water sport. The resort also has a restaurant which serves delicious local and international cuisines where you can dine in.
The Hermitage Garden Resort is located along Hermitage Road, Tiye Village Lekki, Lagos.
Coconut beach badagry
Aptly named for its Coconut trees, this is a favorite beach in the coastal town of Badagry. The beach is located about 20 miles towards the border of Nigeria and the Republic of Benin. Featuring only 8 guest bures each nestled amongst the coconut grove provides the tropical setting for you to relax and enjoy spectacular views across the stunning turquoise lagoon or venture in underwater explorations just meters from the beach that will introduce you to our vibrant house reef.
Bar / lounge
Restaurant
Beach
Canoeing
Facial treatments
Baggage storage
Outdoor furniture
Laundry service
Elegushi beach Lagos
Elegushi beach situated around Ikate area of Lekki is known to offer exquisite restaurants, night clubs, and hangout spots that feature local food, variety of live shows including music and jamborees all week. It also hosts Copa Lagos – a world famous beach soccer tournament that features best teams from all continents.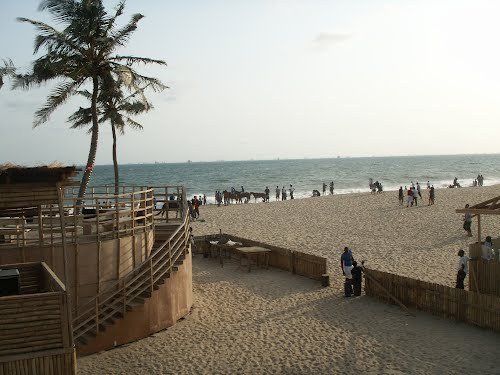 Author Profile
I am a content strategist, conversational copywriter, and brand consultant with over 2years of experience. I help brands reach their target audience through SEO articles and creative content that align with industry needs. I love cryptocurrencies, so I show it by writing. I possess 2years+ of experience in coordinating campaigns for brands through Email marketing and social media content creation. A firm believer that beauty lies in simplicity setting precedence for my close working activity as a UX writer with several product designers to create effective UI/UX.